What started up in 2011 more as an exclusive and stylish meeting between Bulgarian wine producers and wine lovers in the classy Military Club in Sofia, has grown up only 5 (five!) years later… 2 (two!) times with regard to the participants but also the visitors! And it is indisputable – DiVINO Taste has convincingly turned into the major annual presentation of Bulgarian wine!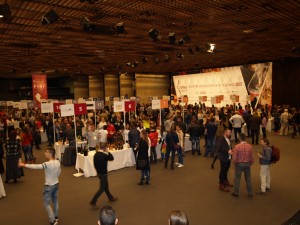 The event took place between 20th and 22th of November in NDK (National palace of culture), Sofia. Here are a few figures from the organizers which should say a lot – 66 wineries (only Bulgarian), nearly 500 wines, 6 000 visitors, 50 000 washed wine glasses, 2 t ice used for cooling of the wines… Perfectly organized and so positively "charged" I definitely enjoyed DiVino Taste once again, for 5th time in a row! Probably the main reason for the success is the whole DiVino team – its great enthusiasm and professional way of doing things, including the details! In addition, the wine culture in Bulgaria is getting much better, people are curious and happy after finding the pure delight of tasting, talking, comparing or simply having fun. It is so easy to fall in love with the divine drink!
I would like shortly to distinguish a few cellars which impressed me in some way – from personal point of view but also regarding the wine tourism in Bulgaria, though 3 days were not enough to taste everything I wanted to! About the quality of wine – Levent (Winery House Rousse), Burgozone (Oryahovo) – one of our major wine tourism partners, Tohun (Pomorie), Domain Marash (the whites!). If I have to select top red and top white, then I would point out Sauvignon Blanc 2015 by Domain Marash and Incanto Syrah Single Vineyard 2013 by Medi Valley.
The best newcomer for me was Uva Nestum from the Mesta Valley Region. Smiley team, ambitious plans, great wines (especially the Rubin&Merlot 2012), and also something quite important for me – they are engaged also in the wine tourism! Good news for our future guests because we will surely think about organizing wine tasting tours to Uva Nestum! And one more "award", let me call it "the most passionate wine team" goes to Malkata Zvezda, a small winery in SE Bulgaria, close to Harmanly. I spent probably all together almost half an hour there – chatting, discussing, laughing and drinking excellent wine! I shouldn't miss to say a few good words about the master classes as well (I took part in two of them)! Also, I had the pleasure to be accompanied most of the time in the tasting room by a colleague and good acquaintance of mine from Villa Yustina – a professional winemaker and oeno guide, with deep knowledge and wine experience!
Last but not least – the best wine made from indigenous grape variety for me was Bergule (Broad-leaved Melnik) 2013 by our friends and partners from Villa Melnik – certainly presented with a smile 🙂
THANK YOU DIVINO TASTE 2015! SEE YOU AGAIN IN 2016!