A few weeks ago I had the pleasure to moderate a wine tasting at the wedding of my good friends Evgenia and Lars who currently live in Copenhagen. But I was also challenged by their invitation because the wedding guests were an interesting mixture from all over the world – more than 100 people from 20 nationalities!!! And it was my "duty" to select, present and offer for tasting distinctive and excellent Bulgarian wines, to say a few words about Bulgaria as an attractive wine travel destination and our Via Vino wine tours. In addition, I should mention that for most of the guests this was their first contact with a Bulgarian wine and of course the audience was quite various with regard to knowledge and interest in wine. To be honest, I tried not to be unnecessarily strained – me and my family were wedding guests and were there to amuse ourselves at the end of the day… But, hey, on the other hand organizing and conducting a wine tasting is a serious and provoking task!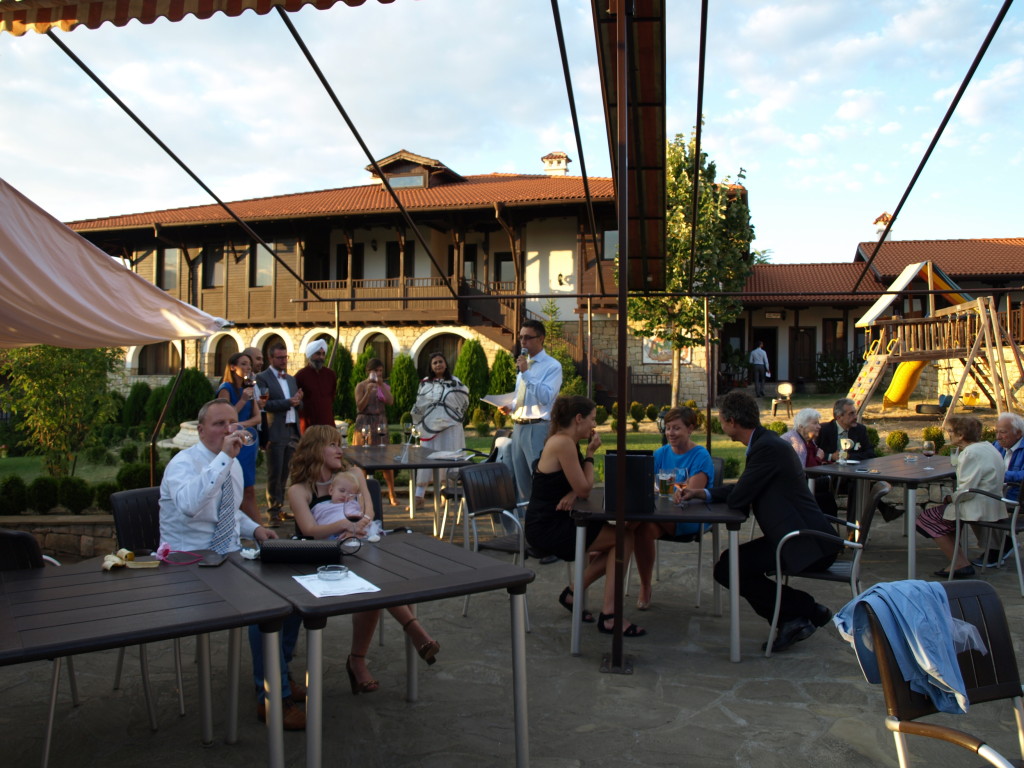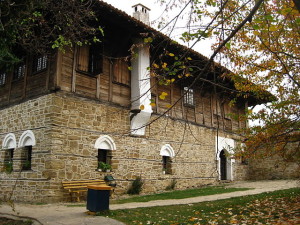 The wedding itself took place in Rachev hotel, in the picturesque tiny village of Arbanasi, close to the previous Bulgarian capital and nowadays magnificent city Veliko Tarnovo. Arbanasi is known for the rich history and large number of historical monuments. Wealthy nobles who resided there during the Bulgarian Revival period left behind heritage houses, built mainly between 16th and 18th century and similar to small fortresses made of stone and wood, now converted into museums or guesthouses.
Now back to the tasting. I chose 3 wines – white, rose and red which would depict the Bulgarian wine in its diversity and charm as plausible as possible. In addition, I wanted to do it from different angles. What do I mean? Bulgaria has 44 indigenous grape varieties, some of them showing great potential and becoming more and more popular. But most of the Bulgarian winemakers still prefer to work with international varieties which without doubt have found the proper terroir in our country (e.g. Bordeaux blend or a pure Merlot is often much easier to be found than 100% local grape variety wine, though all Via Vino wine tourists ask about the autochthone varieties first; but I do not intend to go into the tough discussion "local vs. international varieties"). So, my goal was to show a terroir wine made of well-known species but grown in Bulgaria, a typical indigenous variety and a fresh summer wine in-between – all created in wineries which are also attractive wine travel destinations and located in different wine regions. Not to be mentioned I had to "import" the tasting into the wedding event but above all – not to become boring for the guests!!! The weather surprised us with a much cooler day than normal for mid-August but never mind…
Probably you are already curious to reveal the selected wines, so here they are (with description and short notes on them):

1. Iris Creation, Chateau Burgozone
• Type: White wine
• Vintage: 2014
• Variety: Chardonnay, Sauvignon Blanc and Viognier
• Protected geographical indication: Danube plain
• The wine distinguishes with ideal clarity and shine, with vivid and shining light yellow color with greenish nuances. The aroma is powerful, fine and elegant at the same time, with fragrances of ripe white and yellow fruits, honey and delicate nuances of exotic tropical fruits. Intensive taste with good volume, with long lasting sensation of freshness.
2. Rose Brut, Villa Yustina
• Vintage: 2014
• Variety: Cabernet Franc
• Protected geographical indication: Thracian Valley
• Beautiful rose colour with intense gameplay of fine bubbles. Attractive nose with accents of fresh fruits, cheries and autolyzed tones, harmonious and complex taste with pleasant acids. Long and refreshing finish with rich in flavour aftertaste
3. Merul Reserve, Rumelia
• Type: Red wine
• Vintage: 2009
• Variety: Mavrud
• Protected geographical indication: Thracian region
• Elegant wine, matured in small baric barrels with dense, ruby colour with violet nuances. Nose with hints of chocolate, ripe cherry, juicy and round body, crisp finish. Multilayer aroma with predominant accent of vine tendrils, blackberry and small red fruits. Strong, well structured body with fine tannins and a fruit-piquant final. The wine can be left to mature for a long time.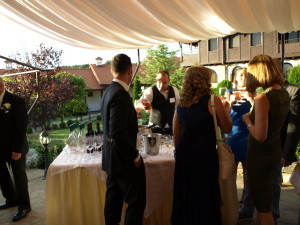 The outcome of my performance?
Shiny happy people, positively surprised by these excellent Bulgarian wines, knowing a bit more about our country as a wine travel destination and "warmed up" for the great wedding party afterwards…
Наздраве, Skål, Cheers and all the best to the new family!