Balkan wines are terra incognita in Bulgaria! Good statement, especially for the beginning of a post, huh?! But it is true. Don't ask me how difficult is to find a decent Prokupac from Serbia (less than 50 km away from Sofia) or Malagousia from Greece (180 km)… I would even use the word "impossible" – believe me I am really sorry for that, and it is somehow peculiar considering our location on the map and moreover the above mentioned distances. I know it is a matter of business, demand and supply, clients' preferences. But Balkan wines are different, charming, presenting very well the various terroirs of this turbulent region. They attract me mostly with their individual, quite distinctive character! Another good thing is that plenty of the wineries are offering excellent opportunities for wine tourism as well.
The Balkans International Wine Competition & Festival (BIWC) has been traditionally held annualy in Sofia at the end of May, celebrating its 5th edition this year. I will skip the "competition element" – not to be underestimated though, with 4 Masters of Wine in the judging team! For me it is above all a great opportunity to meet some wine friends and passionate winemakers personally, to talk about their wines, like the guys from "Orbelus" (an organic wine cellar in the Struma Valley wine region – SW Bulgaria)…
In addition, this is of course the right place to taste (at least once a year) some autochthone Balkan varieties and also attractive international ones, for example a terroir Sauvignon Blanc from Croatia. I did it and I am really satisfied with most of the wines. Here are some wineries which in my opinion need to be mentioned: Tohun (Bulgaria), Vinarija Alexic (Serbia), Domain Marash (Bulgaria), Villa Melnik (Bulgaria), Kir Yianni (Greece), Villa Yustina (Bulgaria), Arda Bagcilik (Turkey), Borovitsa (Bulgaria) etc.
I would like also to congratulate the moderators and the organizers for the interesting Master classes which I have attended – "Unknown Balkans – wine trip to Serbia, Croatia and Macedonia", lead by Igor Lukovic, Sasa Spiranes, Ivana Simjanovska" and "Terroir VS Grape Variety – which is more important?", lead by Ivo Varbanov – "Ivo Varbanov Wines" and Tanya Avramova from "Bratanov Winery". They have presented also The Bulgarian Association of Independent Winegrowers – BAIW, where Odysseia-In & Via Vino is an associated member.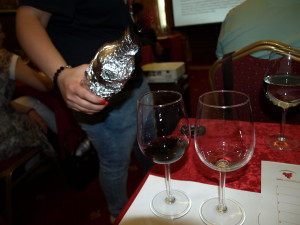 The Grand Trophy winner of the 5th Anniversary edition of the Balkans International Wine Competition is the dessert wine Sigalas Vinsanto 2006, Greece.
Trophy for white wine – Domain Marash, Lenea Sauvignon Blanc 2015, Bulgaria;
Trophy for red wine – Ktima Pavlidis Emphasis, Tempranillo 2012, Greece;
Trophy for rosé – Vinum Rosé 2015, Serbia;
Trophy for sparkling wine – Plantaze Montenegrin Val 2012, Montenegro;
Other trophies have been awarded to wines from Serbia, Croatia, Romania, Macedonia, Turkey and Bulgaria.
I am looking forward to the next edition but do hope not to wait so long for enjoying some fascinating Balkan wine…
And would you allow me to give you one advice? Use every opportunity to taste Balkan wines – they will enchant you, trust me!