Between 04 and 08 April I attended The 8th Annual International Wine Tourism Conference (IWINETC) which was held in the province of Barcelona, Catalunya. This was our first participation in that major wine tourism event and surely not the last. I found it quite interesting and useful, also professionally organized!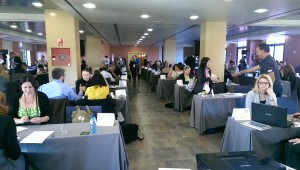 Knowledge, Business & Networking was the IWINETC theme this year for almost 300 delegates from 32 different countries attending with significant attendance from various grape escape destinations (Spain, Greece, Italy, etc.). Via Vino & Odysseia-In have been presented during The Wine Tourism Workshop too, where more than 1,000 appointments have been scheduled before the start of IWINETC.
It proved to be the business highlight of the event with many more meetings conducted at the exhibition area during the 2 day conference program of 30 talks. The interest in Bulgaria as a wine travel destination and our wine tourism project Via Vino was really high and made me feel happy and optimistic!
Also, we visited a few distinguished wineries like Codorniu, Freixenet, Castellroig, Viladellops and the Museum of the Wine Cultures of Catalonia (VINSEUM) in Vilafranca del Penedès.
All visits and wine experiences I had, could be described with one single word – impressive. Can you imagine a 3D cinema in a winery or 31 km of tunnels for storing and aging of wine so the tourists are making a train ride there? Some might say that Spain is wine travel destination #1 in Europe and I would agree.
But the business focus of the event was not the only one. I have met a lot of new friends from all over the world, as passionate and curious about wine as me. We had a great time together admiring excellent wines accompanied by tapas and beatiful landscape…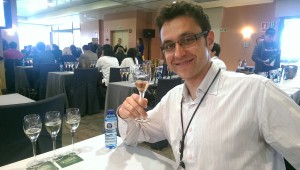 Well, Catalunya is the home of the world famous cava (sparkling wine, produced in the "Méthode Traditionelle"). The native grapes for cava are Macabeo, Xarel.lo (one word) and Parellada. I personally was enchanted by the cavas tasted during the master class lead by Mrs. Sarah Evans, MW. How about a glass of cava aged for 100 months (!) in oak… Simply amazing!
But we had the chance to taste excellent still wines as well. Samso (Carignan) and Garnatxa are among the main varieties offering delicate, medium-bodied wines with red fruit flavors and sometimes interesting minerality. I made a self-drive trip to Priorat (DOQ) and moved to a fairy-tale world where time just doesn't matter. The story of the glory of Priorat is really interesting but I prefer to pique your curiosity instead of telling it.
Next IWINETC will be held in Italy next year and I am looking forward to it. Ci vediamo, Italia!